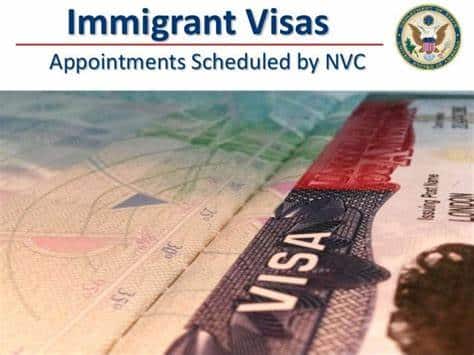 USA: National Visa Center (NVC) Immigrant Visa Backlog Report
ایالات متحده امریکا: گزارش ویزای به تعویق افتادگی مهاجرت مرکز ملی ویزای (NVC)
آیا تا به حال فکر کرده اید که چقدر طول می کشد تا شما، خانواده یا مشتری تان برای ویزای مهاجرت خود در یک دفتر کنسولی ایالات متحده در خارج از کشور مصاحبه کنید؟ گزارش بک‌لوگ زمان‌بندی مصاحبه مرکز ملی ویزا (NVC) از جنوری 2023، که IRAP در روند کشف در پرونده Afghan & Iraqi Allies v. Blinken به آن دست پیدا کرده است، ممکن است تا جایی به این سوال روشنی اندازد.
می‌توانید گزارش را در قالب فایل Microsoft Excel Workbook (xlsx.) از وبسایت زیر مشاهده یا دانلود کنید. این گزارش داده های مفیدی را در مورد تعداد مصاحبه های به تعویق افتاده ویزا، ظرفیت پست اخیر و روند برنامه ریزی دفتر کنسولی نشان می دهد.
Have you ever wondered how long it might take for you, your family, or your client to be interviewed for their immigrant visa at a U.S. consular office abroad? The National Visa Center (NVC)'s Interview Scheduling Backlog report from January 2023, which IRAP obtained during discovery in Afghan & Iraqi Allies v. Blinken, might shed some light on that question. 
You can view or download the report in Microsoft Excel Workbook (.xlsx) file format here. The report reveals useful data about visa interview backlogs, recent post capacity, and scheduling trends by consular office. (The codes for the consular offices are available here.) 
The most useful data is in the "Top 20 Backlogs" table on the Dashboard tab, which shows the estimated number of business days that the post will need to clear the backlog based on their performance over the previous 12 months– i.e., the average time a person will have to wait for an interview to be scheduled if they joined the end of the queue in January. Of course, this is after the person has already waited, often for years, to get to the interview stage of visa processing.
Here are some highlights:
The two offices with the most intractable backlogs as of January 2023 were Khartoum (KHT) and Accra (ACC). At the capacity that those offices were operating between January 2022 and 2023, it would take them approximately 4 years (983 and 947 business days, respectively) to clear their backlogs—assuming no new cases skipped the queue or external circumstances like COVID or security risks further diminished the office's capacity. Khartoum, of course, is now indefinitely closed.
The backlogs appear to disproportionately affect immigrant visa applicants in East and West African countries. Of the top ten most backlogged offices, seven are located in Africa: Khartoum (KHT), Accra (ACC), Monrovia (MRV), Praia (PIA), Lagos (LGS), Dhaka (DHK), Addis (ADD). 
For nationals who have a choice for visa interview scheduling, this data is illuminating. For example, Iranian nationals have the option to schedule interviews in Abu Dhabi (ABD, backlog of 315 days), Doha (DOH, 234 days),Yerevan (YRV, 67 days). The data would suggest that they would be able to get an interview date sooner in Yerevan than in the other locations. 
The outlook is bleak, but it's important for people to understand how long their wait for an immigrant visa interview might be. The State Department posts on its website a stripped down version of the report, which isn't helpful for understanding backlogs and wait times at each office. The State Department already posts information about visa appointment wait times for applicants seeking non-immigrant visas, but immigrant visa applicants have no similar way to check. The State Department should make the full, routinely updated version of its Interview Scheduling Backlog report available publicly if it is committed, as it claims on its website, to "be as transparent as possible."
Bonus: If you want to learn more about how the NVC schedules interviews, you can review the NVC Scheduling Manual, obtained in the same litigation.
This blog post is provided for informational purposes only and does not constitute attorney-client advice. Please consult an attorney about how the visa backlogs may affect your immigration case. If you would like legal information about family-based immigration processes in multiple languages, or to request help from IRAP, please use IRAP's Legal Information website. 
If you would like to receive email alerts about IRAP's legal practitioner resources, please sign up here