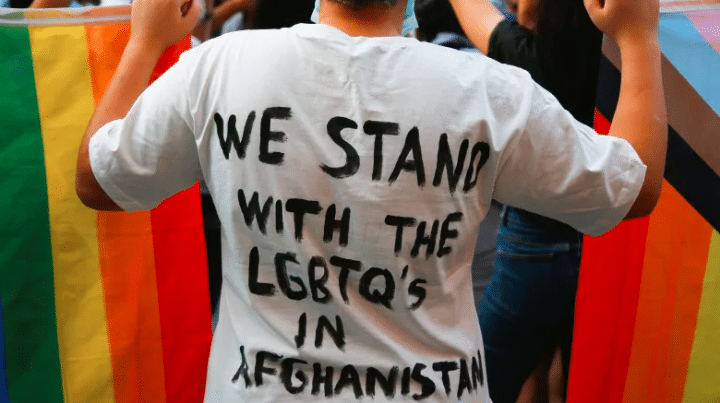 Refugee group partners with Ottawa to bring hundreds of LGBTQ Afghans to Canada
سازمان Rainbow Railroad پیش قدم در حمایت از پناهندگان LGBTQ با دولت فدرال کانادا همکاری می کند تا صدها پناهجوی افغان را که به دلیل گرایش جنسی یا هویت جنسیتی خود از آزار و اذیت فرار می کنند، اسکان دهد. این سازمان تاکنون اسکان مجدد 180 نفر از افراد آسیب پذیر را تسهیل کرده است و انتظار می رود تا پایان سال 20 نفر دیگر نیز به آنها اضافه شود.
Life in Afghanistan has become even more dangerous for LGBTQ people under Taliban rule
A leading advocacy organization for LGBTQ refugees is partnering with the federal government to resettle hundreds of Afghan refugees fleeing persecution because of their sexual orientation or gender identity. 
Rainbow Railroad has received nearly 3,800 pleas for help from LGBTQ and intersex Afghans following the Taliban seized control of the country in August 2021, but has only been able to facilitate the resettlement of 180 vulnerable people in Canada so far (with another 20 more are expected by the end of the year). 
With the partnership announced Wednesday, Rainbow Railroad said it will work with Immigration, Refugees and Citizenship Canada (IRCC) to help another 600 LGBTQ and intersex Afghan refugees find safety in this country. 
"This is a really strong example of what happens when civil society and the government collaborate together," said Kimahli Powell, Rainbow Railroad's chief executive officer.
The timeline, however, is not clear. IRCC, in a statement to CBC News, said it would not go into details about the partnership, citing the "safety and security of those involved," but confirmed it does at times "facilitate the resettlement of specific groups or individuals facing extraordinary circumstances" —including LGBTQ refugees — and engages with "a range of stakeholders, including Rainbow Railroad." Read More