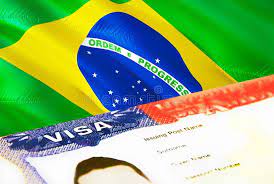 Interview of Brazil Humanitarian Visa for Afghans resumed in Islamabad
مصاحبه ویزای بشردوستانه برزیل برای افغان ها در اسلام آباد از سر گرفته شد
درخواست برای برنامه ریزی مصاحبه برای ویزای بشردوستانه برزیل برای افغان ها باز است. سفارت برزیل در اسلام آباد پاکستان از از سرگیری برنامه ریزی مصاحبه ویزای بشردوستانه برای افغان هایی که از بی ثباتی اگست 2021 در کشور آسیب دیده اند، خبر داده اند.
لطفا تمام سوالات متداول و اطلاعات موجود در وب سایت سفارت برزیل را مطالعه کنید و از شما درخواست می شود برای پرسیدن سوالات در مورد این ویزای بشردوستانه از طریق ایمیل با سفارت تماس نگیرید.
این سیستم از 28 آپریل تا 26 جولای 2023 برای مصاحبه باز است.
توجه: فقط افرادی که تحت تأثیر بی ثباتی در افغانستان از اگست 2021 قرار گرفته اند، واجد شرایط درخواست این ویزای بشردوستانه هستند.
Application is open to schedule the interviews for Brazil Humanitarian visa for Afghans. Embassy of Brazil in Islamabad, Pakistan, announced the resumption of scheduling interviews for humanitarian visas to Afghans who have been affected by the instability in the country since August 2021.
Please read all the frequently asked questions and information available on the website of the Brazil embassy and you are requested not to contact the embassy by email to ask questions regarding this humanitarian visa.
The system is open for interviews from April 28th to July 26th, 2023.

Note: Only people affected by the instability in Afghanistan since August 2021 are eligible to apply for this humanitarian visa.