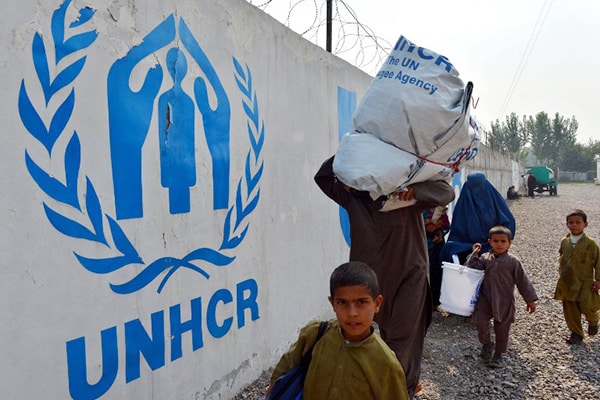 UNHCR "extremely concerned" about detention of Afghan refugees in Pakistan
کمیساریای عالی پناهندگان سازمان ملل در مورد بازداشت پناهجویان افغان در پاکستان "به شدت نگران" است دفتر کمیساریای عالی پناهندگان سازمان ملل متحد در پاکستان از دستگیری و بازداشت پناهجویان افغان در شهرهای پاکستان ابراز نگرانی کرده و از پاکستان و سایر کشورهای همسایه افغانستان خواسته است تا به حقوق پناهجویان احترام بگذارند.
The Office of the United Nations High Commissioner for Refugees (UNHCR) in Pakistan has voiced concern over arrest and detention of Afghan refugees in Pakistani cities, and has called on Pakistan and other countries neighbouring Afghanistan to respect the rights of refugees. Outlining the security and human rights situations in Afghanistan, the agency called on countries to halt forcible returns of Afghan refugees. 
In a statement released via Twitter on 29 December 2022, the UNCHR's Pakistan office said:
"UNHCR is extremely concerned to see images and reports of the arrest and detention of Afghan refugees in Sindh province, particularly Karachi. Irrespective of their status, children and families should not be behind bars.

"We appeal that people should not be punished or criminalized for exercising their fundamental human right to seek asylum. We urge countries neighbouring Afghanistan including Pakistan to continue to protect those seeking safety, as they have done for decades.
"In this respect, UNHCR's Guidance Note on International Protection Needs of People Fleeing Afghanistan underscores the importance of allowing civilians fleeing Afghanistan to access safety and to ensure respect for the principle of non-refoulement at all times."
The Afghan embassy in Islamabad, controlled by the Taliban, said last week that more than 1,500 Afghan refugees were kept in detention in Pakistan jails, only 500 of whom are being released. Lack of legal documents is reported to be the reason behind their detention. The embassy called the mass-detention of Afghan refugees in the country "very hurtful" and that it would have adverse impacts on the two countries' relations.