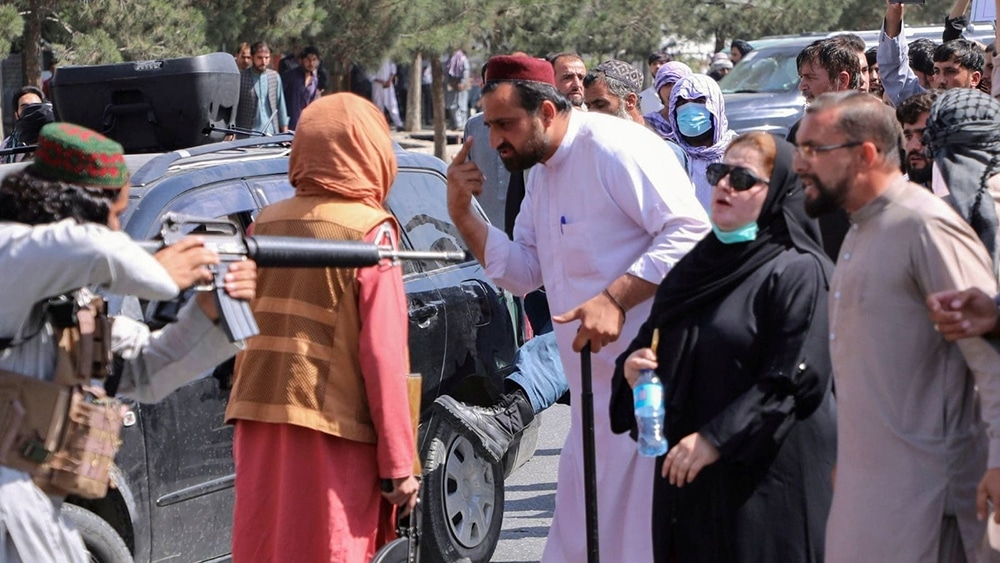 Unable to Leave: The Afghans Stuck in Afghanistan
افغان ها قادر به ترک افغانستان نیستند و آنجا گیر کرده اند
هزاران افغان در معرض خطر به راه‌های عملی، در دسترس و قانونی برای حفاظت بین‌المللی و تلاش‌های مستمر برای تضمین حمایت از کسانی که «غیر ارادی حرکت نمی‌کنند» نیاز دارند.
در همین حال، خشونت هدفمند و سایر درگیری های مسلحانه همچنان به آوارگی و کشتار مردم بیگناه ادامه می دهد. مأموریت کمک سازمان ملل متحد در افغانستان (یوناما) 2106 تلفات غیرنظامی را از 15 اوت 2021 (روزی که طالبان کابل را تسخیر کرد) تا 15 جون 2022 ثبت کرده است. در مجموع 3.4 میلیون نفر اکنون در داخل افغانستان آواره شده اند. افغانستان برای چهار سال متوالی از سال 2019 تا 2022 توسط شاخص صلح جهانی – یک گزارش سالانه که میزان خطرناک بودن یک کشور را بر اساس 23 شاخص از جمله ترور سیاسی، مرگ و میر ناشی از درگیری های داخلی و قتل بررسی می کند، در رتبه بندی خطرناک ترین کشور جهان قرار گرفت.
آسیب پذیرترین افراد که به طور نامتناسبی تحت تأثیر خطرات و چالش ها قرار می گیرند، اغلب قادر به یافتن پشتیبانی یا دسترسی به حفاظت نیستند. هزاره ها قربانیان اصلی حملات فاجعه بار ISK و جنایات طالبان هستند و مرتباً مورد اخراج اجباری قرار می گیرند. زنان و دختران نیز در محاصره هستند، زیرا طالبان یک بحران ویرانگر حقوق زنان ایجاد کرده است. زنان و دختران از دسترسی به آموزش، اشتغال، مراقبت های بهداشتی و نمایندگی سیاسی منع شده اند. طالبان فعالان زن را با آزار و اذیت و آزار، بازداشت های خودسرانه، ناپدید شدن اجباری و شکنجه های جسمی و روانی هدف قرار داده اند. به گفته یوناما، این رفتار در مورد افراد متحد با رژیم سابق نیز اعمال شده است و به گفته یوناما، حداقل 160 مقام دولتی و امنیتی سابق از زمان تسلط طالبان اعدام شده اند.
برای این گروه ها، مهاجرت یک راه حیاتی حفاظتی است – با این حال، به طور فزاینده ای غیرقابل دسترس است. فقدان مسیرهای امن، قانونی و در دسترس برای مهاجرت به این معنی است که بسیاری از کسانی که نیاز به ترک دارند نمی توانند. بر اساس داده‌های جمع‌آوری‌شده توسط مرکز مهاجرت مختلط، افغان‌ها فقط می‌توانند برای چند کشور همسایه ویزا بگیرند و این روند پیچیده و پرهزینه است. مقامات سابق و نیروهای امنیتی که در کشور گیر افتاده اند، بیشتر به چالش کشیده می شوند زیرا داده های بیومتریک آنها در پایگاه داده ثبت احوال نفوس ثبت شده است، که اکنون توسط طالبان مدیریت می شود.
بنابراین، مسیرهای مهاجرتی جایگزین و غیرقانونی اغلب گزینه ترجیحی – یا تنها – برای بسیاری از افرادی است که به دنبال خروج هستند. با این حال، هزینه فزاینده خدمات قاچاق، که نتیجه مستقیم افزایش تقاضا است، این مسیرها را برای بسیاری غیرقابل دسترس می کند. آنهایی که خیلی فقیر، ضعیف یا بیمار هستند نمی توانند ریسک و سختی تلاش برای فرار را تحمل کنند. این افغان ها یک جمعیت گرفتار هستند.
Thousands of at-risk Afghans need practical, accessible, and legal routes to international protection, and continued efforts to ensure support for those "involuntarily immobile.
One year after the Taliban takeover, widespread hunger, destitution, and segregation – ethnic, religious, and gender-based – is increasing. According to the World Food Program, more than 90 percent of Afghans have been suffering from food insecurity since last August. Over 1 million children under the age of 5 are suffering from prolonged acute malnutrition. The economic collapse facing the country after the withdrawal of foreign support and freezing of assets has crippled the capacity of local actors to respond to these challenges.
Meanwhile, targeted violence and other armed conflict continues to displace and kill innocent people. The United Nations Assistance Mission in Afghanistan (UNAMA) documented 2,106 civilian casualties between August 15, 2021, (the day the Taliban took over Kabul) and June 15, 2022. A total of 3.4 million people are now internally displaced in Afghanistan. Afghanistan was ranked the most dangerous country in the world for four consecutive years, from 2019 to 2022 by the Global Peace Index – an annual report that measures how dangerous a nation is based on 23 indicators including political terror, deaths from internal conflict, and murder rate.
The most vulnerable people, those disproportionately affected by the risks and challenges, are often unable to find support or access protection. Hazaras remain the principal victims of catastrophic ISK attacks and Taliban atrocities, and are regularly subjected to forced evictions. Women and girls are also under siege, as the Taliban has created a devastating women's rights crisis. Women and girls are banned from access to education, employment, health care, and political representation. The Taliban have targeted female activists with harassment and abuse, arbitrary arrest and detention, enforced disappearance, and physical and psychological torture. This treatment has also been applied to people allied with the former regime, and at least 160 former government and security officials have been executed since the Taliban takeover, according to UNAMA.
For these groups, migration is an essential protection lifeline – however, it is increasingly inaccessible. A lack of safe, legal, and accessible pathways for migration means many who need to leave are not able. According to the data collected by Mixed Migration Centre, Afghans can only obtain visas for a few neighboring countries, and the process is complicated and costly. Former officials and security forces stuck in the country are further challenged as their biometric data is registered in the Population Registry database, which is now managed by the Taliban.
Alternate and illicit migration routes are therefore often the preferred – or only – option for many looking to leave. However, the growing cost of smuggling services, a direct consequence of increased demand, makes these routes inaccessible for many. Those simply too poor, frail, or ill to be able to afford the risk and hardship of an attempt to flee. These Afghans are a trapped population.
https://thediplomat.com/2022/10/unable-to-leave-the-afghans-stuck-in-afghanistan/?fbclid=IwAR0CpC5qUIAlPMfnASQp7lgDbpRuE2qR5DrhKiBzpc54oQ7aIDCO4sAjGuw