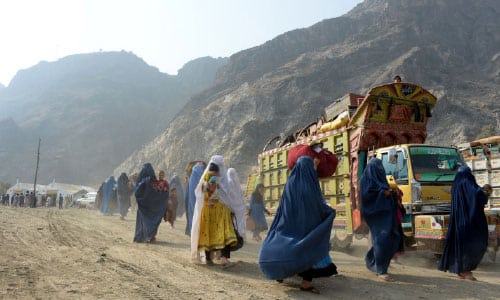 Pakistan not to review decision on illegal immigrants
پاکستان تصمیم خود در مورد مهاجران غیرقانونی را مورد بازبینی قرار نمی‌دهد.
نخست‌وزیر می‌گوید افغان‌هایی که به اینجا می‌آیند باید پروتکل‌های خاصی را رعایت کنند.
مقامات روز سه‌شنبه اعلام کردند که پاکستان تصمیم خود را برای اخراج تمام خارجی‌ها، عمدتاً افغان‌ها، که به طور غیرقانونی در این کشور زندگی می‌کنند، پس از نگرانی‌های مطرح شده توسط سازمان‌های حقوق بشر نسبت به اخراج اجباری تقریباً ۱.۷ میلیون افغان، بازبینی نخواهد کرد.
پاکستان به تمام مهاجران غیرقانونی تا ۳۱ اکتبر فرصت داده است تا به طور داوطلبانه خارج شوند و یا با سرکوب از اول نوامبر مواجه خواهند شد. مقامات گفته‌اند که سازمان‌های حقوق بشر و حتی نهادهای مرتبط سازمان ملل متحد برای بازبینی تصمیم به اسلام‌آباد مراجعه کرده‌اند.
سازمان ملل متحد برای پناهندگان و سازمان بین‌المللی مهاجرت پشتیبانی خود را از پاکستان برای "توسعه یک مکانیزم جامع و پایدار برای ثبت و مدیریت ملت افغان، از جمله کسانی که ممکن است به حمایت بین‌المللی نیاز داشته باشند" ارائه کرده اند.
در حالی که از مهمان‌نوازی پاکستان نسبت به ملت افغان به مدت بیش از چهار دهه با وجود چالش‌ها تشکر می‌شود، نهادهای پناهندگی و مهاجرت بین‌المللی از دولت پاکستان مبنی بر نقض حقوق بشری که ممکن است در تلاش‌هایشان برای "اخراج اجباری ملت افغان" به وجود آید، از جمله جدایی خانواده‌ها و اخراج کودکان، را خواسته اند که در نظر بگیرند.
در پاسخ به یک سوال، نخست‌وزیر کاکر صراحتاً گفت که پاکستان "تسلیم" نخواهد شد و سیاست خود را برای اخراج تمام مهاجران غیرقانونی اجرا خواهد کرد. او اما توضیح داد که این سرکوب علیه پناهندگان افغان نیست. او گفت که افغان‌ها می‌توانند پس از اخراج به پاکستان بیایند اما باید پروتکل‌های خاصی را رعایت کنند.

PM says Afghans coming here have to follow certain protocols
Pakistan would not revisit its decision to deport all foreigners, mostly Afghans, living in the country illegally after the concerns raised by human rights organisations over the forced eviction of nearly 1.7 million Afghans, officials said on Tuesday.
Pakistan has given all the illegal immigrants until October 31 to leave voluntarily or face crackdown starting from November 1. The officials said that Islamabad had been approached by human rights organisations and even the relevant UN agencies for the review of the decision.
The UN High Commissioner for Refugees (UNHCR) and the International Organisation of Migration (IOM) offered their support to Pakistan for "developing a comprehensive and sustainable mechanism to register and manage the Afghan nationals, including those who may be in need of international protection".
While appreciating Pakistan's generous hospitality towards the Afghan nationals for over four decades despite challenges, the international refugee and migration agencies appealed to the Pakistan government to consider the human rights violations that might occur in their efforts for "forced repatriation of Afghan nationals", including the separation of families and deportation of minors.
Speaking to a group of journalists on Monday, Caretaker Prime Minister Anwaarul Haq Kakar defended the government's policy to deport illegal immigrants and the introduction of a single-document regime for the Afghans.
In response to a question, Prime Minister Kakar made it clear that Pakistan would not "surrender" and implement its policy to evict all illegal immigrants. He, however, clarified that the crackdown was not against the Afghan refugees. He said that the Afghans could come to Pakistan after deportation but they had to follow certain protocols.
The series of measures Pakistan introduced, including deportation of illegal immigrants, introduction of visa policy for Afghans and restrictions on Afghan imports, are seen in the context of current tensions between Pakistan and the Afghan Taliban.
Asked whether Pakistan's policy of backing the Afghan Taliban backfired, Prime Minister Kakar dismissed the perception that the Taliban returned to power with Islamabad's help. He referred to the US documents and media reports, showing it was Washington's flawed approach that brought the Afghan Taliban to power.
"Afghan Taliban are reality and we have to work with them," Kakar emphasised, when asked to comment on the current status of Pakistan and Afghanistan relationship.
Tensions between the two countries have been on the rise in recent months due to non-cooperation by the Afghan Taliban to tackle the banned Tehreek-e-Taliban Pakistan (TTP). There has been a surge in TTP-sponsored attacks in Pakistan, which were blamed on the sanctuaries across the border.