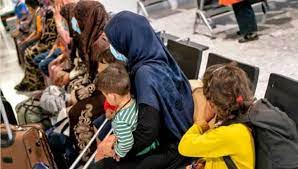 Just four Afghan refugees brought to the UK since fall of Kabul
پس از سقوط کابل، تنها چهار پناهجوی افغان به بریتانیا آورده شده اند
پس از تخلیه هزاران نفر توسط هواپیمای جمعی در آگیست 2021، تنها چهار نفر از طریق طرح شاخص برای پناهندگان به بریتانیا آورده شده اند.
آمار وزارت کشور نشان می‌دهد که از زمان سقوط کابل، تنها چهار پناهجوی افغان در بریتانیا در طرح اسکان مجدد دولت به امن آورده شده‌اند.
طرح اسکان مجدد شهروندان افغان (ACRS) که در ماه آگیست سال گذشته اعلام شد، با هدف اسکان مجدد 5000 افغان در سال اول و حداکثر 20000 افغان در مدت پنج سال انجام شود.
Since mass airlift evacuated thousands in August 2021, only four have been brought to Britain through flagship scheme for refugees
Just four Afghan refugees have been brought to safety in the UK on the government's flagship resettlement scheme since the fall of Kabul, Home Office figures show.
Announced last August, the Afghan citizens' resettlement scheme (ACRS) aimed to resettle 5,000 Afghans in the first year, and up to 20,000 over five years.
https://www.independent.co.uk/news/uk/home-news/afghan-refugees-acrs-arap-home-office-b2237159.html#comments-area