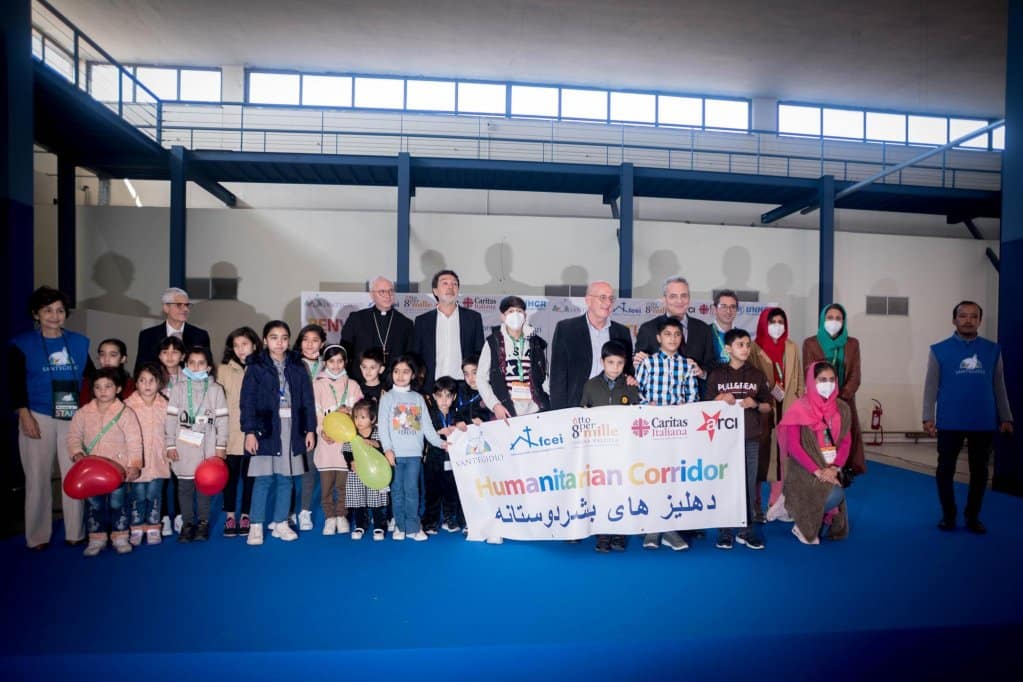 Italy welcomes 178 Afghan refugees from Pakistan, Iran
ایتالیا از 178 پناهجوی افغان از پاکستان و ایران پذیرایی نمود
دو گروه از پناهجویان افغان اخیراً از طریق دهلیز های بشردوستانه وارد ایتالیا شده اند: هفته گذشته یک گروه 152 نفری پناهجوی افغان از پاکستان از طریق یک دهلیز بشردوستانه وارد ایتالیا شدند.
26 پناهجوی افغان دیگر روز سه شنبه (29 نوامبر) از تهران وارد رم شدند. آنها از طریق یک راهرو بشردوستانه که توسط Fcei – فدراسیون ایتالیایی کلیساهای معترض سازماندهی شده بود، وارد شدند.
یمپاگلیازو به پناهجویان گفت: «تمام ایتالیا ورود شما را جشن می‌گیرد و از شما استقبال می‌کند و آرزو دارد آینده‌ای را از طریق تحصیل و کار به خانواده‌هایی که به نظر می‌رسید این شانس را به دلیل جنگ از دست داده‌اند، ببخشد.
رهبر Sant'Egidio همچنین خواستار تطبیق مدل کریدور بشردوستانه در سراسر اروپا شد. «ایتالیا باید در اروپا راهگشای دهلیز های بشردوستانه باشد، پروژه ای که به یک رویه کاملاً جا افتاده تبدیل شده است و باید به کل اتحادیه اروپا به عنوان الگوی مهمان نوازی و ادغام برای کسانی که نیاز به حمایت بشردوستانه دارند پیشنهاد شود."
پناهندگان تازه وارد توسط انجمن ها، جماعات مذهبی، جوامع و شهروندان خصوصی در مناطق مختلف ایتالیا پذیرفته شدند.
Two groups of Afghan refugees have arrived in Italy through humanitarian corridors recently: A group of 152 Afghan refugees from Pakistan arrived in Italy through a humanitarian corridor last week.
Another 26 Afghan refugees landed in Rome on Tuesday (November 29) from Tehran. They arrived via a humanitarian corridor organized by Fcei — the Italian federation of protestant churches.
"All of Italy celebrates your arrival and welcomes you and wishes to give a future, through schooling and work to families who seemed to have lost this chance due to war," Impagliazzo told the refugees.
The leader of Sant'Egidio also called for the humanitarian corridor model to be adapted across Europe. "Italy should lead the way in Europe for humanitarian corridors, a project that … has become a well-established practice, that should be proposed to the entire European Union as a model of hospitality and integration, for those in need of humanitarian protection," he said.
The newly arrived refugees were taken in by associations, religious congregations, communities and private citizens across different regions in Italy.
https://www.infomigrants.net/en/post/45103/italy-welcomes-178-afghan-refugees-from-pakistan-iran?fbclid=IwAR3iagGq-UX7qQIX-unF0sExcKHqax_CK0362EnAGlKYHKFh0ampzIcvx0w