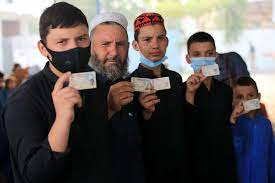 Government of Pakistan and UNHCR open 11 PoR smartcard modification centres for Afghan refugees in Pakistan
دولت پاکستان و UNHCR 11 مرکز اصلاح کارت هوشمند PoR را برای پناهجویان افغان در پاکستان افتتاح کردند
اسلام آباد، 22 دسامبر 2022 – دولت پاکستان با حمایت UNHCR و آژانس پناهندگان سازمان ملل متحد، 11 مرکز اصلاح کارت (PCM) اثبات ثبت (PoR) را در سراسر کشور افتتاح کردند.
مراکز PCM واقع در پیشاور، کویته، کراچی، لاهور، اسلام آباد، نوشهره، میانوالی، لویر دیر، هریپور و کوهات، به پناهندگان افغانی که دارای کارت اثبات ثبت (PoR)  با تاریخ انقضای جنوری 2023 هستند، خدمات رسانی خواهند کرد. مراکز PCM که توسط پایگاه ملی داده و مرجع ثبت پاکستان (NADRA) اداره می شود، اطلاعات مربوط به دارندگان کارت PoR را به روز رسانی ، تصحیح و اصلاح می کنند.
یک مرکز PCM در اسلام آباد به طور رسمی توسط آقای گوهر احمد، رئیس پروژه NADRA، آقای فرید الله جان، کمیشنر برای پناهندگان افغان HQ) ) و خانم نوریکو یوشیدا نماینده کمیشنری عالی پناهندگان سازمان ملل در پاکستان افتتاح شد. در این مراسم نمایندگانی از جامعه جهانی نیز حضور داشتند.
آقای گوهر احمد خبر داد که عملیات PCM به 11 سایت سراسری مجهز به 80 کانتر و 140 متخصص فناوری اطلاعات برای خدمت رسانی موثرتر به شهروندان افغانستان گسترش یافته است. آقای احمد گفت: "بر اساس حمایت کمیشنری عالی پناهندگان سازمان ملل و سایر شرکای توسعه، دارندگان کارت PoR می توانند فرزندان تازه متولد شده خود را ثبت نام کرده و سند تولد دریافت کنند."
علاوه بر این، به عنوان بخشی از خدمات ارائه شده توسط مراکز PCM، کودکان ثبت نام شده که پنج ساله می شوند می توانند از کارت PoR خود استفاده کنند. دارنده کارت PoR همچنین می‌تواند یک سرتفیکیت اطلاعات خانوادگی از جمله برای عضو خانواده ثبت نشده اش که در آخرین آزمایش تأیید ثبت شده است، دریافت کند.
آقای فرید الله جان خاطرنشان کرد که این یک دستاورد برجسته بود که معلومات پناهندگان افغان در طول تمرین DRIVE که در سال گذشته انجام شده بود، تأیید و به روز شد، و از جامعه کمک کننده برای حمایت مستمر آنها تشکر و قدردانی کرد همچنان امیدوار است که مراکز PCM پناهندگان را قادر به دریافت خدمات سریع در مناطق مربوطه کنند.
نماینده کمیساریای عالی پناهندگان سازمان ملل در سخنرانی خود در این مراسم بر اهمیت سند هویتی که وضعیت قانونی اعطا می کند و پناهندگان افغان را از بازداشت و اخراج خودسرانه در طول اقامت آنها در پاکستان محافظت می کند و همچنین دسترسی به خدمات ضروری را فراهم می کند، تأکید کرد. او گفت: «برای پناهندگان افغان مهم است که کارت های به روز رسانی شده ای داشته باشند که به اطمینان دسترسی به بهداشت، آموزش و سایر تسهیلات کمک می کند.»
اما افغان های که از قبل کارت PoR ندارند نمیتوانند برای ثبت نام اقدام کنند.
پاکستان میزبان حدود 1.3 میلیون پناهجوی ثبت شده افغان است که دارای کارت PoR هستند.
ISLAMABAD, 22 December 2022– Government of Pakistan and UNHCR open 11 PoR smartcard modification centres for Afghan refugees in Pakistan
The Government of Pakistan with the support of UNHCR, the UN Refugee Agency, has opened 11 Proof of Registration (PoR) card modification (PCM) centres across the country.
The PCM centres located in Peshawar, Quetta, Karachi, Lahore, Islamabad, Nowshera, Mianwali, Lower Dir, Haripur and Kohat, will serve Afghan refugees who hold Proof of Registration (PoR) cards with an expiry date of June 2023. Run by Pakistan's National Database and Registration Authority (NADRA), these PCM centres will update, correct and modify information pertaining to the PoR card holders.
A PCM centre in Islamabad was formally inaugurated by Mr. Gohar Ahmed, the Chief Project Officer for NADRA, Mr. Farid Ullah Jan, Commissioner for Afghan Refugees (HQ), and Ms. Noriko Yoshida, UNHCR Representative in Pakistan. Representatives from the international community attended the event.
Mr. Gohar Ahmed informed that PCM operations have been extended to 11 nationwide sites equipped with 80 counters and 140 IT professionals to serve Afghan citizens more effectively. "By virtue of support from UNHCR and other development partners, PoR cardholders can register their newborn children and obtain a birth certificate," said Mr. Ahmed.
In addition, as part of services offered by the PCM centres, registered children who turn five years of age can avail of their own PoR card. A PoR cardholder can also obtain a Family Information Certificate including for their unregistered family member recorded during the most recent verification exercise.
Mr. Farid Ullah Jan noted that it was a landmark achievement that the data of Afghan refugees were verified and updated during the DRIVE exercise conducted last year, and extended his appreciation to the donor community for their continued support and the hope that the PCM centres will enable refugees to get swift services in their respective areas.
Speaking on the occasion, the UNHCR Representative underscored the significance of the identity document which grants legal status and protects Afghan refugees from arbitrary detention and deportation during their stay in Pakistan as well as provides access to essential services. "It is important for Afghan refugees to hold updated cards that help ensure access to health, education and other facilities," she said.
However, those Afghans without PoR cards cannot apply to register.
Pakistan hosts some 1.3 million registered Afghan refugees who are holding PoR cards
https://www.unhcr.org/pk/15961-government-of-pakistan-and-unhcr-open-11-por-smartcard-modification-centres-for-afghan-refugees-in-pakistan.html?fbclid=IwAR0rpctWDus1Hn2XlG0ZdbXOfQrKf1kdmEq5xu9E8vG_yX8ZnjjzmTe8_jM