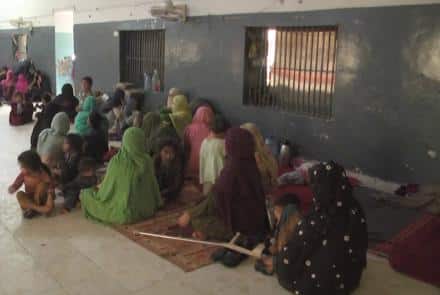 Pakistan releases, sends back 524 Afghan prisoners
پاکستان تعداد  524 زندانی افغان را آزاد نموده و بازگرداند
سفارت افغانستان در اسلام آباد اعلام کرد که 524 زندانی افغان از جمله 54 زن و 97 کودک اوایل امروز از زندان های کراچی آزاد شدند.
سفارت افغانستان در اسلام آباد با همکاری سرکنسولگری طالبان در کراچی برای تسهیل آزادی 524 زندانی افغان از جمله 54 زن و 97 کودک بسیار تلاش کرده است. این بازداشت شدگان دو ماه حبس را سپری کرده و به دلیل نداشتن مدارک قانونی (ویزا و اجازه اقامت) توسط پلیس سند در زندان به سر می بردند.
سفارت افغانستان اعلام کرده است که هزینه ترانسپورت و ترتیب سفر اتباع آزاد شده افغان توسط وزارت امور خارجه افغانستان از طریق نمایندگی دیپلماتیک این کشور در کراچی تامین می شود.
همچنین جسد یک زندانی به نام «عبدالخلیل» اصالتاً از ولایت فاریاب که در زندان جان باخته بود، همراه با زندانیان آزاد شده به افغانستان فرستاده شد.
The Embassy of Afghanistan in Islamabad has announced that 524 Afghan detainees including 54 women and 97 children were released from Karachi prisons earlier today.
The Afghan Embassy in Islamabad in collaboration with the Taliban's Consulate General in Karachi has worked hard to facilitate the release of 524 Afghan detainees including me 54 women and 97 children. These detainees have spent two months imprisonment and were incarcerated by the Sindh police due to not having legal documents (visa and stay permit).
The Afghan Embassy has stated that the transportation cost and travel arrangements of the released Afghan nationals will be covered by the Ministry of Foreign Affairs of Afghanistan through its Diplomatic Mission in Karachi.
Also, the dead body of an inmate name "Abdul Khalil" originally from Faryab province who had died in prison, was sent to Afghanistan along with the released prisoners.