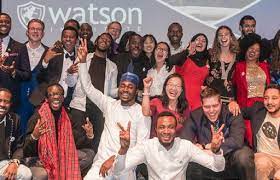 Western Union Foundation Fellowship
فیلوشیپ بنیاد وسترن یونین
فیلوشیپ بنیاد وسترن یونیون برای کارآفرینان و رهبران نسل آینده جامعه، از جوامع بسیار به حاشیه رانده شده، پناهندگان و آواره شدگان اجباری در سراسر جهان و کار با آنها است.
این برنامه 16 هفته ای برای تجهیز کارآفرینان و رهبران نسل آ ینده  با مهارت و تجربه برای افزایش دسترسی به فرصت های اقتصادی، فرصت کسب بودجه اولیه، ادغام در جوامع خود، موفقیت در تکامل ماهیت کار و متحول ساختن جوامع طراحی شده است.
این برنامه با مؤلفه‌های مجازی و حضوری ارائه می‌شود که به دوستان اجازه می‌دهد از همگروهی جهانی استفاده کنند و در عین حال بر ایجاد تأثیر محلی در جوامع خود تمرکز کنند.
چهل هزار دالر بودجه اولیه بین اعضای بنیاد ویسترن یونین بر اساس پیشرفت و تأثیر برای تمام دوره بورسیه توزیع خواهد شد.
این فیلوشیپ به دنبال متقاضیان و کار از کشورهای زیر است: مکزیک، کنیا، اتریش، برزیل، کانادا، کلمبیا، کاستاریکا، اتیوپی، فرانسه، آلمان، هند، ایتالیا، اردن، لبنان، امارات متحده عربی، پاکستان، پرو ، فیلیپین، عربستان سعودی، ترکیه، اوگاندا، بریتانیا، ایالات متحده آمریکا و افغانستان.
اعضای بنیاد وسترن یونیون باید متعهد شوند که از 19 جنوری تا 4 می 2023 بخشی از برنامه 16 هفته ای باشند. یک برنامه فشرده 2 هفته ای (20 تا 25 ساعت در هفته) و به دنبال آن 14 هفته برنامه هفتگی برنامه نویسی (5-8 ساعت در هفته) است. به همراهان کمک هزینه ای داده می شود که 80 تا 100 ساعت اضافی را صرف اجرای یک برنامه فشرده 3 روزه به نام Basecamp  کنند.
این یک برنامه به لطف حمایت بنیاد وسترن یونیون با بودجه کامل است.
The Western Union Foundation Fellowship is for next-generation entrepreneurs and community leaders from and working with highly marginalized, refugee, and forcibly displaced communities around the globe.

This 16-week-long program is designed to equip these next-generation entrepreneurs and leaders with the skills and experience to increase access to economic opportunity, have the opportunity to earn seed funding, integrate into their communities, succeed in the evolving nature of work, and transform their communities.
This program is offered with virtual and in-person components that allows fellows to take advantage of the global cohort while also focusing on creating local impact within their communities.
$40,000 in seed funding will be distributed among the Western Union Foundation Fellows based on progress and impact throughout the Fellowship.
We are looking for applicants from and are working in the following countries: Mexico, Kenya, Austria, Brazil, Canada, Colombia, Costa Rica, Ethiopia, France, Germany, India, Italy, Jordan, Lebanon, United Arab Emirates, Pakistan, Peru, Philippines, Saudi Arabia, Turkey, Uganda, United Kingdom, United States, and Afghanistan.
Western Union Foundation Fellows must be able to commit to be part of the 16-week program from January 19th to May 4th, 2023. There is a 2-week intensive (20-25 hours per week) followed by a 14-weeks of weekly programming (5-8 hours per week). Fellows will be given a stipend and spend an additional 80-100 hours implementing a 3-day intensive program called Basecamp.
This is a fully-funded program thanks to the support of the Western Union Foundation.
https://watson.is/western-union-foundation-fellowship/?fbclid=IwAR3wb2BLqdhXLhnnAOracwhYCH7WpPfTrm8txxwrrbInjiE6Z5j3-6n6w1M