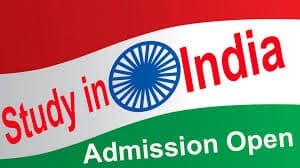 Special Scholarship Scheme for Afghan Nationals (SSSAN)
هند: طرح بورسیه تحصیلی ویژه برای اتباع افغانستان (SSSAN)
به ابتکار نخست وزیر وقت هند، سالانه 500 بورسیه تحصیلی (بعدها به 1000 افزایش یافت) در سال 2005 برای اتباع افغان برای تحصیل دوره های UG، PG و Ph.D در دانشگاه ها و انستیتوت های هند با هدف حمایت از یک افغانستان مستقل، باثبات و مرفه و برای امنیت و ثبات در منطقه معرفی شد.
برای ادامه سیاست حمایت از افغانستان، تصمیم گرفته شده است که از سال 2023-2024 به بعد، سالانه 1000 بورسیه تحصیلی برای اتباع افغان برای دوره های آنلاین سطح UG و PG از طریق پورتال e-VB ارائه می شود.
بورسیه های تحصیلی برای دوره های لیسانس و ماستری:
بورسیه تحصیلی به متقاضیانی اعطا می شود که توسط دانشگاه های هند، نمایندگی های هند در خارج از کشور توصیه شده و توسط MEA تایید شده اند. دانش آموزان می توانند دستورالعمل های اعطای بورس تحصیلی را در
Guidelines.pdf
مشاهده کنند.
سلب مسئولیت:
تحت پروژه ICCR، هزینه برنامه به عنوان بورسیه پرداخت می شود. هیچ کس مجبور نیست هزینه ای از زبان آموزان دریافت کند.
آخرین تاریخ ارسال فرم درخواست تکمیل شده به صورت آنلاین در پورتال iLearn (
www.ilearn.gov.in
) منتشر خواهد شد.
At the initiative of the then Prime Minister of India 500 scholarships (later on increased to 1000) annually were introduced in 2005 for Afghan Nationals to study UG, PG & Ph.D level courses in Indian Universities/Institudes with the aim to support Afghanistan as a sovereign, stable, and prosperous Afghanistan, and for security and stability in the region.
To continue with the policy of supporting Afghanistan, it has been decided that from the A.Y 2023-24 onwards, 1000 scholarship, annually will be offered to Afghan Nationals for online UG & PG level courses through e-VB portal.
Scholarships for Undergraduate and Postgraduate programmes:
Scholarship will be awarded to applicants who are recommended by Indian Universities, Indian Missions abroad and approved by MEA. Students may see the guidelines for award of scholarship at Guidelines.pdf
Disclaimer:
Under the ICCR Project, the programme fee is being paid as scholarship. There is no mandate for anyone to charge any fee from learners.
Last Date for submission of Completed Application Form online shall be published on the iLearn portal (www.ilearn.gov.in).