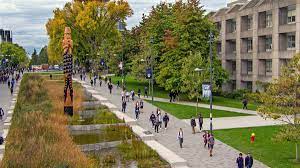 Masters and PhD at the University of British Columbia in Canada
ماستری و دکتری در دانشگاه بریتیش کلمبیا در کانادا
مطالعات تکمیلی و فوق دکترا طیف گسترده ای از گزینه ها را برای ماستری و دکترا مبتنی بر کورس یا پژوهش محور ارائه می کند. ما از طریق برنامه‌هایی که از نظر دامنه بین‌المللی، در فرآیند تعاملی و در محتوا و رویکرد میان رشته‌ای هستند، به دانش‌آموزان، آموزش چالش‌برانگیز ارائه می کنیم.
ورود به UBC رقابتی است، یعنی هر سال متقاضیان بیشتری را دریافت می کنیم که همه شرایط ما را برآورده می کنند تا ما بپذیریم.
متقاضیان دانشگاه های خارج از کانادا که در آن زبان انگلیسی زبان اصلی آموزشی نیست، باید نتایج امتحان مهارت زبان انگلیسی را به عنوان بخشی از درخواست خود ارائه کنند.
مهلت درخواست برای هر سطح متفاوت است.
جزئیات بیشتر را در وب سایت دریافت کنید:
Graduate and Postdoctoral Studies offers a wide range of options for course-based or research-based master's and doctoral students. We offer students an intellectually challenging education through programs that are international in scope, interactive in process and interdisciplinary in content and approach.
Entry to UBC is competitive, i.e. each year we receive way more applicants who meet all our requirements than we can accept.
Applicants from a university outside Canada in which English is not the primary language of instruction must provide results of an English language proficiency examination as part of their application.
All deadlines are program specific and can range from November of the previous year to April of a year for a September intake. The most important deadline is the application deadline. Without meeting the application deadline, a file may not be considered for evaluation. No changes can be made to the application after submission. Graduate programs can set two other deadlines – which may be the same as the application deadline or provide slightly more time to complete specific actions:
Get more details from the website.