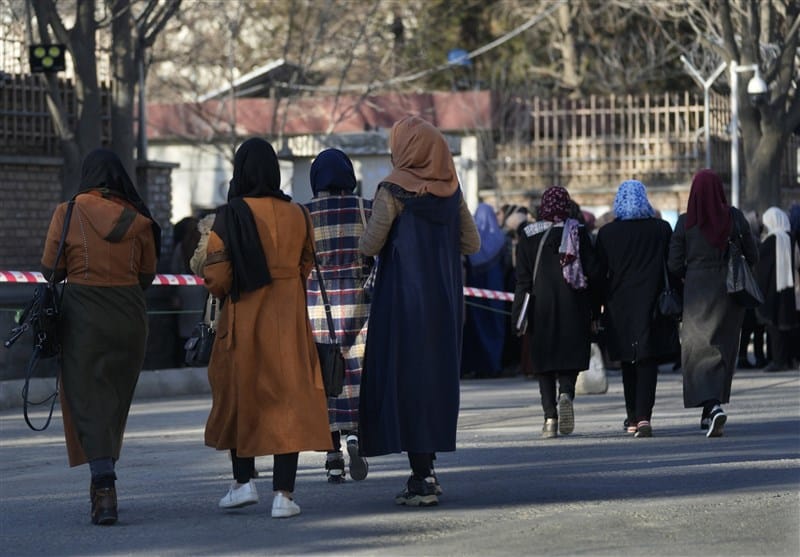 Germany offers scholarships for Afghan female students
آلمان برای محصلین دختر افغان بورسیه تحصیلی ارائه می کند
وزارت همکاری اقتصادی و توسعه فدرال آلمان (BMZ) می خواهد از حدود 5000 زن افغان برای تحصیل در یکی از کشورهای همسایه حمایت کند. به همین منظور، سرویس تبادل دانشگاهی آلمان (DAAD) یک برنامه بورسیه برای جوانانی که از سرکوب طالبان به کشورهای همسایه بنگلادش، قرقیزستان یا پاکستان گریخته اند، راه اندازی می کند. گروه هدف عمدتاً زنان افغان هستند که از پایان ماه دسامبر از تحصیل در کشور خود منع شده اند. بودجه این برنامه توسط BMZ با حدود هفت میلیون یورو تامین می شود.
سونیا شولزه، وزیر توسعه فدرال: «سیاست طالبان نه تنها تحقیر زنان است، بلکه برای توسعه کشور نیز مسموم است. محرومیت از فرصت های آموزشی نیمی از جمعیت، پتانسیل آینده کشور را از بین می برد. بدون زنان تحصیلکرده، هیچ راهی برای رهایی از گرسنگی و فقر وجود ندارد. آنها همچنین برای کار سازمان های کمکی ضروری هستند. طالبان باید ممنوعیت هایی را که زنان را مستثنی می کند لغو کنند. در هر صورت، ما از جستجوی راه هایی برای حمایت از زنان افغان دست نخواهیم کشید. یکی از راه ها این است که زنان افغان را که فرار کرده اند برای تحصیل در یکی از کشورهای همسایه توانمند کنیم. این به زنان چشم انداز شغل مناسب و معیشت مطمئن می دهد. و به محض اینکه شرایط افغانستان دوباره اجازه دهد، می توانند کشورشان را در بازسازی حمایت کنند.»
پروفسور دکتر جویبراتو موکرجی رئیس DAAD می افزاید: "برای مردم افغانستان، وضعیت یک فاجعه جاری است. به ویژه زنان جوان ضربه سختی خورده اند: دیگر به سختی امکان شرکت در زندگی اجتماعی برای آنها وجود دارد. از آنجایی که آنها از دانشگاه ها کنار گذاشته شده اند، آنها همچنین فاقد هرگونه فرصت آموزشی آکادمیک هستند. بنابراین، برنامه جدید بورسیه یک قطعه ساختمانی مهم برای توانمندسازی زنان جوان، همراه با سازمان های شریک بین المللی ما، برای آماده شدن برای دانشگاه و حمایت از پناهجویان زن افغان با بورسیه های لیسانس و فوق لیسانس در دانشگاه های منطقه است.
تمرکز برنامه جدید بورسیه حمایت از تحصیلات آکادمیک دانشجویان زن افغان در کشورهای همسایه بنگلادش، قرقیزستان و پاکستان است.
در بنگلادش، DAAD بورسیه های لیسانس را در دانشگاه آسیایی زنان در شهر چیتاگونگ اعطا می کند.
در قرقیزستان، دانشجویان افغان در دانشگاه آمریکایی آسیای مرکزی (AUCA) در شهر بیشکک برای یک دوره دو ساله ماستری حمایت مالی می شوند.
در پاکستان، DAAD بورسیه های چهار ساله لیسانس و دو ساله ماستری را عمدتاً برای پناهندگان زن افغان از طریق سازمان های همکار ارائه می دهد.
هدف از حمایت هدفمند از زنان افغان کمک به آموزش متخصصان واجد شرایط است که می توانند آموزش و توسعه را تحت شرایط تغییر یافته در افغانستان پیش ببرند. انتظار می رود این برنامه تا پایان سال 2027 از بیش از 5000 نفر پشتیبانی کند. DAAD علاوه بر UNHCR، با آموزش جهانی یسوعی دانشگاه آسیایی زنان و دانشگاه آمریکایی آسیای مرکزی همکاری می کند.
The German Federal Ministry for Economic Cooperation and Development (BMZ) wants to support about 5,000 Afghan women to study in one of the neighboring countries. To this end, the German Academic Exchange Service (DAAD) is launching a scholarship program for young people who have fled Taliban repression to neighboring Bangladesh, Kyrgyzstan or Pakistan. The target group is primarily Afghan women who have been banned from studying in their home country since the end of December. The program is funded by the BMZ with around seven million euros.
Federal Development Minister Svenja Schulze: "The Taliban's policy is not only contemptuous of women, but also poisonous for the country's development. Denying half the population educational opportunities robs the country of its future potential. Without well-educated women, there is no way out of hunger and poverty. They are also indispensable for the work of aid organizations. The Taliban must revoke the bans that exclude women. In any case, we will not stop looking for ways to support Afghan women. One way is to enable Afghan women who have fled to study in one of the neighboring countries. This gives the women the prospect of a decent job and a secure livelihood. And they can support their country in reconstruction as soon as the conditions in Afghanistan allow it again."
DAAD President Prof. Dr Joybrato Mukherjee adds, "For the people of Afghanistan, the situation is an ongoing catastrophe. Young women in particular have been hit hard: It is hardly possible for them to participate in social life anymore. Since they have been excluded from universities, they also lack any academic training opportunities. The new scholarship program is therefore an important building block in enabling young women, together with our international partner organizations, to prepare for university and to support Afghan women refugees with bachelor's and master's scholarships at universities in the region."
The focus of the new scholarship program is to support the academic education of Afghan women students in the neighboring countries of Bangladesh, Kyrgyzstan and Pakistan.
In Bangladesh, the DAAD is awarding bachelor scholarships at the Asian University for Women in the city of Chittagong.
In Kyrgyzstan, Afghan students at the American University of Central Asia (AUCA) in the city of Bishkek are sponsored for a period of two years while they pursue a master's degree.
In Pakistan, the DAAD will offer four-year bachelor and two-year master scholarships primarily for Afghan women refugees through partner organizations.
The targeted support of Afghan women is intended to help train qualified specialists who can advance education and development under changed conditions in Afghanistan. The program is expected to support more than 5,000 people by the end of 2027. In addition to the UNHCR, the DAAD is working with Jesuit Worldwide Learning, the Asian University for Women and the American University of Central Asia.
https://www.bmz.de/en/news/press-releases/germany-offers-scholarships-for-afghan-female-students-136178