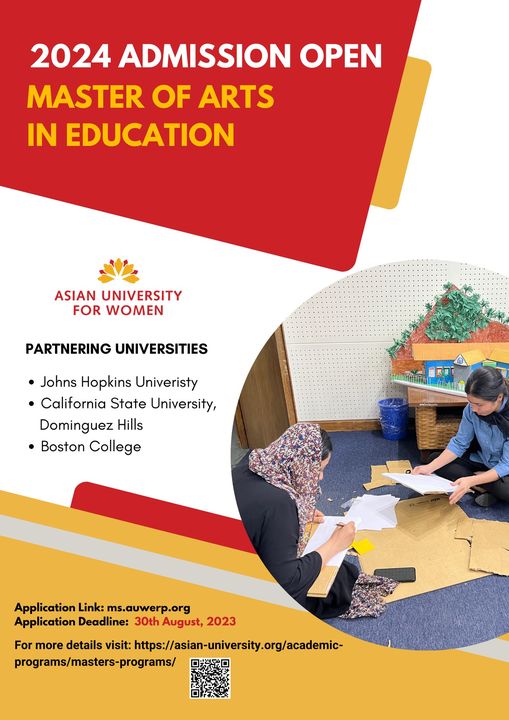 Fully funded Master's program at the Asian University for Women
برنامه ماستری با بودجه کامل در دانشگاه آسیایی برای زنان
۹ روز باقی مانده است تا برای برنامه ماستری با بودجه کامل در دانشگاه آسیایی زنان درخواست دهید!
آیا خود را به عنوان یک رهبر آموزشی آینده می بینید؟ آیا امیدوارید از طریق اصلاحات آموزشی، زندگی افرادی که در حاشیه جامعه هستند بهبود یابد؟ برنامه کارشناسی ارشد هنرهای دانشگاه آسیایی برای زنان در آموزش، یک برنامه فارغ التحصیل ترکیبی میان رشته ای با مشارکت مدارس معتبر ایالات متحده، در حال حاضر بودجه کامل را به زنان از همه ملیت ها ارائه می دهد.
برنامه فارغ التحصیل در آموزش و پرورش اکنون درخواست هایی را برای پذیرش سال 2024 می پذیرد. ما از درخواست های دانشجویان دختر از همه رشته ها و از تمام نقاط جهان استقبال می کنیم.
آخرین مهلت برای درخواست ها 30 آگوست 2023 است.
9 days remain to apply for a fully funded Master's program at the Asian University for Women!
Do you see yourself as an educational leader of the future? Do you hope, through educational reforms, to improve the lives of those on the margins of society? The Asian University for Women's Master of Arts in Education programme, an interdisciplinary hybrid graduate programme in partnership with prestigious US schools, is presently offering full funding to women of all nationalities.
The Graduate Programme in Education is now accepting applications for the 2024 intake. We welcome applications from female students of all majors and from all parts of the world.
(See the section "Master of Arts in Education.")
The deadline for the applications is August 30th, 2023.