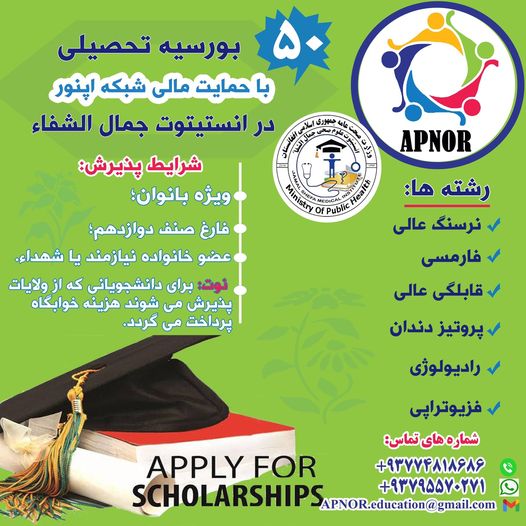 APNOR provides cholarships for people of Afghanistan to get into Medical fields
بورسیه تحصیلی با حمایت شبکه اپنور در انستیتیوت جمال الشفاء
به اساس این تفاهمنامه شبکه اپنور ۵۰ سیت بورسیه تحصیلی ویژه بانوان را در رشته های صحی؛ نرسنگ عالی، پروتیز دندان، فارمسی، قابلگی عالی، رادیو لوژی و فزیوتراپی در انستیتوت صحی جمال الشفا معرفی می نماید.
هزینه دوره مکمل تحصیلی از طرف شبکه اپنور پرداخت می گردد.
بانوان که توان پرداخت هزینه تحصیلی را ندارند و فارغ صنف دوازدهم باشند میتواند در خواست شمولیت نمایند.
متقاضیان تا ۲۵ حمل فرصت دارند با شماره تلفن و وتساپ ذیل به تماس شوند.
شماره تماس: 0774818686
شماره وتساپ: 93795570271+
APNOR provides cholarships for people of Afghanistan to get into Medical fields such as Nursing, midwifery, doctor and etc.
Conditions:
Recipients must be Afghan women;
Have at least 12th grade education;
From a family in financial hardship;
Will cover costs of student accomodation.
WhatsApp number: +93795570271
Contact number: 0774818686
ِِDeadline: Feb 14 2023