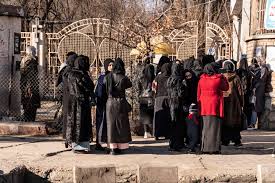 AFGHAN WOMEN: THE CHALLENGES AND PROMISES OF EDUCATION
زنان افغان: چالش ها و وعده های آموزش
24 می 2023، 18:30 – 19:45 (امکان عضویت آنلاین)
راه اندازی برنامه بورسیه تحصیلی ماریا روزاریو لازاتی نیادا برای زنان افغان
با حضور فیلیپو گراندی، کمیساریای عالی سازمان ملل در امور پناهندگان
به منظور حمایت از تحصیل زنان افغان، انجمن مدارس ارغوشا دور و انستیتوت فارغ التحصیل ژنو برای ارائه بورسیه تحصیلی به دانشجویان زن افغان که در برنامه کارشناسی ارشد در این موسسه پذیرفته شده اند، همکاری کرده اند. این بورسیه ها بدون تبعیض نژادی یا مذهبی اعطا می شوند.
آخرین مهلت: 15 اکتبر 2023
AFGHAN WOMEN: THE CHALLENGES AND PROMISES OF EDUCATION
24 May 2023, 18:30 – 19:45 (possibility to join online)
LAUNCHING OF THE MARIA ROSARIO LAZZATI NIADA SCHOLARSHIP PROGRAMME FOR AFGHAN WOMEN
in presence of Filippo Grandi, UN High Commissioner for Refugees
In order to support the education of Afghan women, the Association Arghosha Faraway Schools and the Geneva Graduate Institute have partnered to offer scholarships to Afghan women students admitted to a master programme at the Institute. These scholarships are awarded without distinction of ethnic origin or religion.
Deadline: 15 October 2023